We're Getting Mutants in the MCU - The Loop
Play Sound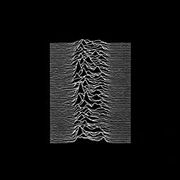 Unknown Pleasures is the first full studio album of Joy Division. Note that it does not mark the debut of Joy Division. It contains tracks like "Disorder" and "She's Lost Control".
Background
[
]
Joy Division started recording Unknown Pleasures on the dawn of April 1979, at Strawberry Studios, Stockport. They weren't happy about its "empty, spacious" sound, and was hoping for a more "aggressive, sounding" album. Peter Hook, who played the bass in this album, said in 2006, "It definitely didn't turn out sounding the way I wanted it... But now I can see that Martin (the producer) did a good job on it... There's no two ways about it, Martin Hannett created the Joy Division sound." Tony Wilson, the boss of Factory Records, having faith in the album put his life insurance money (8,500 pounds) in the production of 10,000 copies.
However, Unknown Pleasures sold poorly during its release in 14th of June 1979. Nevertheless, the release of the single, "Love Will Tear Us Apart", from Joy Division in April 1980, which quickly became a hit, made Unknown Pleasures, which came from the same band, substantially successful.
The album cover is derived from the pulses of the first discovered pulsar, PSR B1919+21. The album was going to be called CP 1919 in relation to this.
There are two sides to this album, "Outside" and "Inside".
Songlist
[
]
"Outside" side
[
]
"Inside"
[
]
2007 "Live at the Factory" bonus, 13 July 1979.
[
]
All songs are live.
Cast
[
]
Ian Curtis-singer
Bernard Sumner-Guitar, keyboards
Peter Hook-Bass
Stephen Morris-Drums
Martin Hannett-Producer
Reception and Reviews
[
]
Allmusic: 5 stars/"All visceral, all emotional, all theatrical, all perfect -- one of the best albums ever."
Robert Christgau: A-/"...the man is idolizing as fast as he oxidizes, a role model as dubious as Sid or Jimbo for the inner-directed set. Nevertheless, it's his passionate gravity that makes the clumsy, disquieting music so convincing..."
NME:10/10
Pitchfork: 10/10/"It's one of the most perfect pairings of artist and producer in rock history, but that shouldn't undersell the band's input."
Q: "5 stars only for the song "She's Lost Control."
Rolling Stone: 5 stars/"...it's nothing less than a surpassing testament to the life force itself."
Spin: 9/10
Uncut: 5 stars