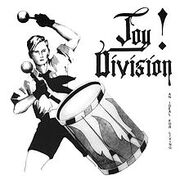 An Ideal For Living is a punk rock extended play which marks the debut of Joy Division. The 7" was released in June 1978, though it was recorded in 1977.
Background
The album shows of a Hitler Youth beating a drum. The small print on the right of the album reads "An Ideal For Living." The album was created by Bernard Sumner (Bernard Albrecht). Not to show that they had anything to do with Nazi's they made the 12" version (which came out on October the same year) with a picture of a scaffolding.
The band recorded the track in Pennine Studios, Oldham. The were going to label it "Enigma" till they found out there was already an Enigma, so they labeled it "Anonymous".
Songlist
Allmusic review
Allmusic gave it 3 stars. "Joy Division's first release showcases clearly the group's punk roots. "Warsaw" is classic rushed hardcore complete with shouted vocals, while "Failures" simply slows the tempo a bit to become a punk-influenced hard-rock number. "No Love Lost" is almost an instrumental selection, with very late-entering vocals that seem like an afterthought. Most indicative of the group's later releases is the slower-tempo "Leaders of Men," which allows Ian Curtis' bleak lyrics to come to the fore."
Community content is available under
CC-BY-SA
unless otherwise noted.